宇宙强队"Na`Vi"降临绵阳科创杯
著名职业俱乐部Na`Vi旗下的Na`Vi.WOT坦克世界分部,在12月13·14日,夺得俄服中国绵阳科创杯预选赛冠军,获得俄服唯一晋级线下总决赛的资格。Na`Vi表示,参加中国绵阳科创杯是第二次到中国参赛,对此次国际级的赛事十分重视。
以下为原文:

Dear fans of Na'Vi and tank eSports, closed RU-cluster qualifiers of regional tournament China Since & Tech City Cup was conducted on 13 and 14 December. The tournament will be held in China on 23-25 January 2015.
The teams of Gold and Silver Series participated in the qualifiers held on the previous weekend. Na'Vi, Unity, Rox.Kis, GRA, Arcade.NSH, The Young Lions, Vega Squadron (ex-Corsa) and ARTFIX struggle for the only slot in the Chinese tournament. The toss divided the teams in the groups as follows:
The teams spent two days in battles. Natus Vincere won and will join the winner of the European qualifiers - GG.WP in a trip to China. The matches being closed and no streaming provided, we asked Dmitry "SL1DE" Fishman to tell us about the matches of the team.
Dmitry "SL1DE" Frishman: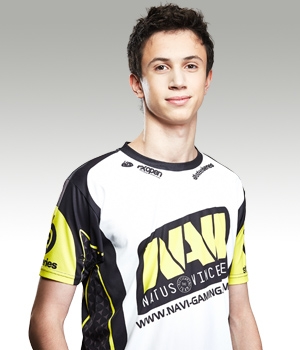 The first day of the qualifiers was rather easy and unmemorable. Due to the problems the teams TYL and ARTFIX couldn't attend the matches, that's why we had to play only one match against Vega Squadron (ex-Corsa) for the first place in the group. We didn't relax and defeated the rival at 5:2.
Afterwards our first battle was against Arcade.Nashorn that left the group A. Though we defeated them at 5:0, the games against the rhinoceros were really difficult. We played both the attack and the defense more confidently at the Cliff than Arcade. They lacked time to push us in one of the rounds. We played our game and won all the 4 rounds at the Cliff. Afterwards we started playing defense in Himmelsdorf. Everyone knows it is very hard to attack in this map. The rivals didn't manage to break our defense, so we won.
Our final encounter was against Rox.Kis. The first map was the Cliff. We played confidently in this map on the whole. Only once did we performed too aggressively which resulted in our loss. We started the Steppes with a score of 3:1. We began the first round as attackers and managed to capture the base of the rival. Rox.Kis performed too aggressively in the second round which resulted in their loss. Na`Vi won at 5:1 and got their right to go to China.
China Since & Tech City Cup is the second Chinese tournament with RU-cluster represented, the first one being World Cyber Arena. As per moment we don't have information about this tournament. We know only that 16 teams will participate in the competitions. The games will be conducted under the system double elimination and the prize pool will be 95 000 $.

更多精彩内容,敬请关注KA竞技平台